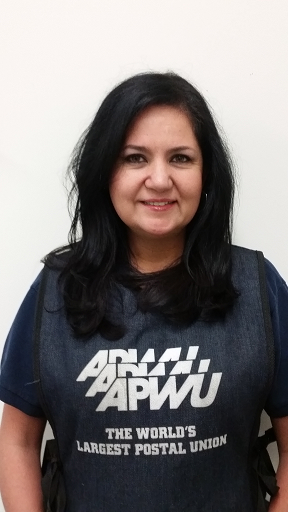 My Name is Giulianna Rist. Being in the APWU is the best decision I've made. They help with the cost of insurance and always help with any problems or questions I have. They are there to help with anything I need. Thank you to all of the members of the Union, you are the best!
Notice-Alert


January 11, 2017 Dear members, I was recently told that a supervisor at a station had advised clerks that the union had agreed to allow letter carriers to perform clerk work. That alleged statement by the supervisor is false. The Local APWU has never agreed to allow management to utilize letter carriers in the clerk craft. No such agreement exists.
Martin Luther King Holiday


Dear members, This is to advise that the Local union office will be closed on Monday, January 16, 2017, in observance of the Martin Luther King holiday. The office will reopen on Tuesday, January 17, 2017. Have a safe and happy holiday.
APWU Orientation Agreement


8/26/16 Dear members, Attached is a settlement agreement regarding the ability of the APWU to conduct orientation for new career or non-career employees; for current employees assigned to the APWU bargaining unit, and for non-career employees who become eligible for health care. Congratulations to Tony McKinnon for his efforts in securing this agreement. Download: APWU Orientation Agreement.pdf

DBCS Staffing


8/26/16 Dear members, Attached is a step 4 decision regarding the issue of staffing on the DBCS machine. Congratulations to Tony McKinnon, Director, Industrial Relations, for his efforts in securing this agreement. Download: DBCS Staffing-Step 4 Decision.pdf

New Pay Charts


8/2/16 Dear members, The new pay charts for the 2015-2018 contract can be accessed one of two ways. You can click on "Salary Charts" on the left, then select "all pay charts" and it will take you to the APWU web page, which will list the various charts. You can also go directly to http://www.apwu.org and view them there.